Case Studies
Motion Database of Skiing for People with Disabilities
China Administration of Sport for Persons with Disabilities
People with Disabilities, Skiing, Motion Analysis
Snow and ice sports are popular among people with disabilities in the north during wintertime, which is also an important part of sports for people with disabilities in China. Skiing as one of the representative projects, its importance is self-evident.
In China, compared with skiing for the masses, skiing for people with disabilities has not been paid attention to in terms of sports technique or sports equipment, and the research on relevant scientific theories and training methodology is even less. Lack of scientific and technological support, skiing for people with disabilities' performance is difficult to improve.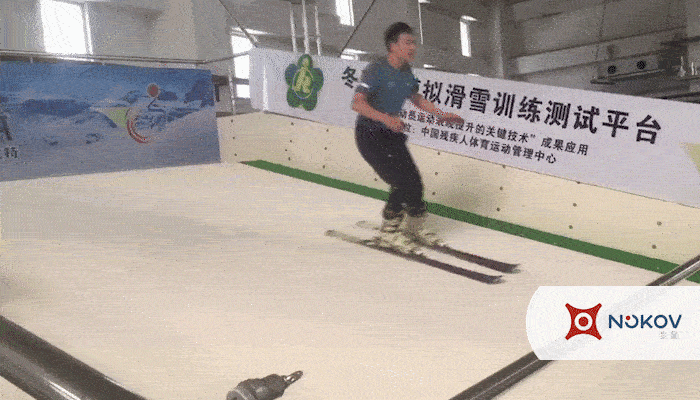 In order to break this situation, China Administration of Sport for Persons with Disabilities took the lead in introducing the NOKOV motion capture system to establish a motion database for evaluating and correcting movement details in skiing for people with disabilities.
We set up 8 motion capture cameras above a 4 m ×4 m ski machine to capture athletes' gestures while skiing, and extract key frames of these movements to obtain core valuable motion data, and then identify and classify these movements, so that the motion data can be retrieved like text, so as to establish a motion database of skiing for people with disabilities.
By analyzing and studying the characteristics of the data in the database, such as speed, posture, motion frequency, etc., theory and training results can be improved to a great extent. At the same time, in the training process of a single athlete, the auxiliary training team and medical team can also find the difference of his center of gravity, movement and posture through movement comparison, so as to customize the training method suitable for him and improve the training effect.
With sub-millimeter accuracy, NOKOV optical motion capture system can accurately reflect the details of motion and record the trajectory of motion in real time, so it is widely used in sports simulation, medical therapy and other fields.
Reach out to us for

model customization
We are dedicated to assisting you with your inquiries and providing comprehensive information.

Share your concerns with us, and we will promptly guide you towards the most effective solution.

Capture Volume *

m m m

Objectives to be Tracked *

Number of Objectives (optional)

Camera Type (optional)

Camera Count (optional)